Audio & Video :: Audio Converters
Moo0 Audio Converter
Easy Audio Converter. +33 format support
:: Product Details ::
Update :
2015-03-03
Publisher :
Moo0
Home Page :
http://www.moo0.com/
Version :
1.32
Size :
9136 KB
Price :
Freeware
Compatible :
WinXP,WinVista,WinVista x64,Win7 x32,Win7 x64
Total Download :
146
:: Product Description ::
Moo0 Audio Converter lets you easily convert audio files into different formats.
It is very easy to use, and you just need to drag and drop files onto the program window. It currently supports 33 output formats and many more for the input. [Input Formats]: Output formats + Many More! [Output Formats]: 3GP, 3GP (AAC), 3G2, 3G2 (AAC), AAC, AC3, AIFF, AMR, AU, AU (a-Law), AU (u-Law), FLAC, M4A, M4A (ALAC), MMF, MOV, MP2, MP3, MP4, OGG, OGG (FLAC), RA, RM, WAV, WAV (ADPCM IMA), WAV (ADPCM Microsoft), WAV (ADPCM Yamaha), WAV (GSM), WMA, PCM (Little-Endian), PCM (Big-Endian), PCM (a-Law), PCM (u-Law)
Reviews:

Moo0 Audio Converter gives you fast conversions, but doesn't sacrifice any of your original file's audio quality.
(Download.com) (4-Star Rating - Thank You!)
:: Product Screenshot ::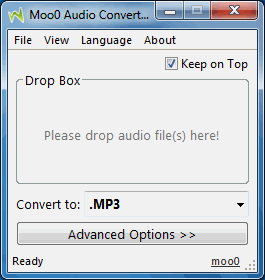 Click to view screenshot
Related Products
Downloadfeast is a software portal provides you thousands of freeware software download program listings of Windows, Linux, Mac & Mobile apps to download. 100% virus & spyware free
Top Downloads