Audio & Video :: Audio Editors/Recorders
Moo0 Voice Recorder
Record Your Voice / PC Audio Easily
:: Product Details ::
Update :
2015-03-03
Publisher :
Moo0
Home Page :
http://www.moo0.com/
Version :
1.43
Size :
3124 KB
Price :
Freeware
Compatible :
WinXP,WinVista,WinVista x64,Win7 x32,Win7 x64
Total Download :
118
:: Product Description ::
Moo0 Voice Recorder is a very simple sound recorder.
It is very easy to use, and you can start recording "Any PC Audio" / "Any PC Audio and Voice" / "Only Voice" just by one-click. It supports MP3 and Wave file formats to save the files into.
Also, since this program can capture any sounds on your PC, you may use it to record Internet radio, streaming music, Skype calls and even some songs from your video files.
- Some functionality may not work on Windows 8.1, since many sound drivers are still not fully supporting Windows 8.1.
Tips:
- Very useful for practicing singing. :)
- Want better sound recording quality? - "Setting" -> "MP3 Recording Quality".
- Need record scheduling? - "Setting" -> "Show (Start Timer/End Timer/Max Duration) Panel".
- Wondering about the Skins? -
You can check them out here.
Reviews:

Moo0 Voice Recorder is a super simple sound-recording app for Windows.
(Download.com) (5-Star Rating - Thank You!)
:: Product Screenshot ::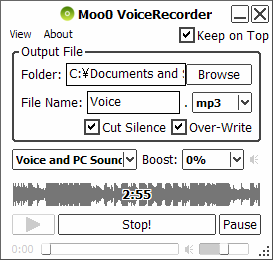 Click to view screenshot
Related Products

Downloadfeast is a software portal provides you thousands of freeware software download program listings of Windows, Linux, Mac & Mobile apps to download. 100% virus & spyware free
Top Downloads