Desktop Enhancements :: Desktop Utilities

Moo0 Window Menu Plus
Add extra useful menus to windows
:: Product Details ::
Update :
2015-03-03
Publisher :
Moo0
Home Page :
http://www.moo0.com/
Version :
1.20
Size :
3396 KB
Price :
Freeware
Compatible :
WinXP,WinVista,WinVista x64,Win7 x32,Win7 x64
Total Download :
710
:: Product Description ::

Moo0 Window Menu Plus lets you have extra useful menus in every window's "system window menu".
It's the menu that you can access through right-clicking on any window's title bar or taskbar button. This tool can add extra menus there such as "Keep on Top", "Transparency Adjustment", "Process Priority Adjustment", "Various Information about the Program" and so forth.
Also, you can configure not to show some menus that you don't use. You can enjoy only useful menus that you want.
Tips:
- The configuration is available from the TaskTray icon menu.
- It is nice to use "Process Priority... -> Above Normal" on video players.
- "Keep on Top" would be very useful on calculator windows.
- "Program Information..." is useful to diagnose/get information about the program displaying the window.

:: Product Screenshot ::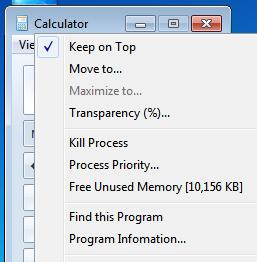 Click to view screenshot
Related Products



Downloadfeast is a software portal provides you thousands of freeware software download program listings of Windows, Linux, Mac & Mobile apps to download. 100% virus & spyware free
Top Downloads