Developer Tools :: Website Authoring

Free Script Viewer
View, add, edit SWF metadata.
:: Product Details ::
Update :
2020-02-18
Publisher :
Media Freeware
Home Page :
http://mediafreeware.com
Version :
1.0
Size :
2758 KB
Price :
Freeware
Compatible :
WinXP,Win7 x32,Win7 x64,Windows 8,WinVista,WinVista x64
Total Download :
6
:: Product Description ::
The Free Script Viewer is software that enables users to extract the source code from SWF files for various purposes. Decompiling such files by accessing the actionscripts in them is the main aim of this tool. It is a very handy tool for all those professionals who deal with such files on a daily basis. Since most video websites rely on SWF format for their files, having this information can prove to be very handy. It has a number of features which make it one of the better known products from amongst the lot. Extracting and checking the same can minimize the occurrence of any errors and thus improve the quality of the files in a huge way. Though it sounds very difficult, users will find the Free Script Viewer quite basic. With no complex settings, this is apt for professionals as well as novice users. It can be downloaded onto any device that runs on Windows OS, notwithstanding the version. Being a light weight tool, it does not eat up the disk space either. Another feather in the cap is the absence of any malware or adware during the installation. Once this is accomplished, it can be used to access the SWF files immediately. The response time of the tool is commendable and there is no intermittence of any kind. It supports any SWF files and users can even add encrypted ones onto the interface. Even those which are highly confidential can be accessed without any glitches. The Free Script viewer extracts information such as sounds, frames, library symbols, font symbols, scripts, etc, with just a few clicks. It supports the drag and drop function and this saves a lot of time and effort on the part of the user. This is a standalone app without the need for any additional specifications.
:: Product Screenshot ::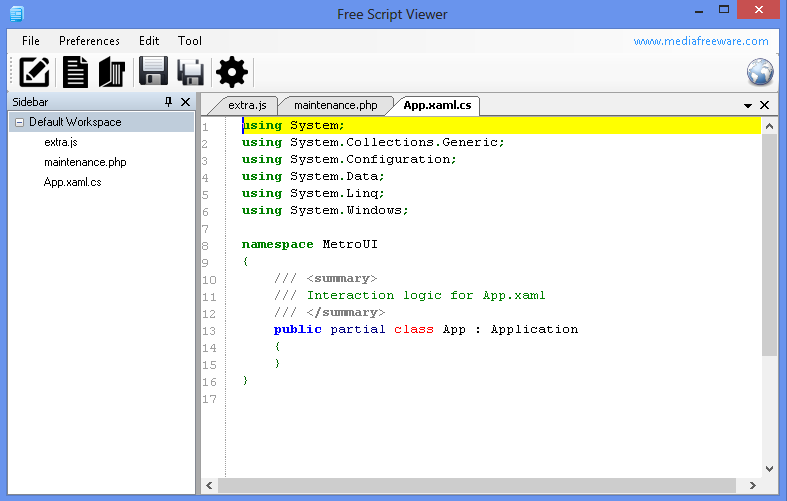 Click to view screenshot
Related Products
Downloadfeast is a software portal provides you thousands of freeware software download program listings of Windows, Linux, Mac & Mobile apps to download. 100% virus & spyware free
Top Downloads