Mobile Application :: Mobile Softwares

Aiseesoft iPod Manager for Mac
Transfer files between iPod and Mac.
:: Product Details ::
Update :
2015-11-16
Publisher :
Aiseesoft Studio
Home Page :
http://www.aiseesoft.com
Version :
6.1.32
Size :
37068 KB
Price :
$29
Compatible :
Mac OS X,Mac Other,Other
Total Download :
81
:: Product Description ::
Aiseesoft iPod Manager for Mac aims to help you export iPod music, movies, camera roll, and pictures to Mac, and import local videos, audios and images to iPod without losing anything. Also it allows you to convert popular video/audio files to iPod, make iPhone M4R Ringtone from videos, audios, MTV albums, recordings, even import your iPod files to iTunes for backup. Moreover, it can transfer files between different iOS devices(iPod, iPhone and iPad), and it can also support iPhone 5s/iPhone 5c, iPad Air, iPad mini 2 and iOS 7 now.

Key Features

1. Transfer files between different iOS devices
This iPod Manager can help users to transfer iPod files to another iPod or even iPhone/iPad.

2. Edit iPod video effect
With this software, users can trim video length, crop video frame, watermark video, adjust video effect, and so on.

3. Support all the iPod/iPhone/iPad versions
This iPod Manager for Mac supports all the iPod/iPhone/iPad versions, especially iPhone 5s/5c and iPad mini 2, iPad Air.

4. Repair your iPod database
This software can help you repair the iPod database if it is damaged.

5. Find your file quickly
Aiseesoft iPod Manager for Mac can help you to search your files in the categories of Name, Genre, Artist, Album for you to find your file as soon as possible.

6. Show the number of files automatically
Click video, audio and photo folder, the number of the files will be shown in the bottom of the screenshot.

7. My Cache feature
This Mac iPod Manager provides users with the My Cache feature, which allows users to store the converted iPod files in My Cache temporarily. So you have no need to connect iPod to Mac while converting video files.

8. Super fast transfer speed
This transfer will be finished in a short while. The results of the transfer will be shown in the bottom of the screen. (succeeded, failed).
:: Product Screenshot ::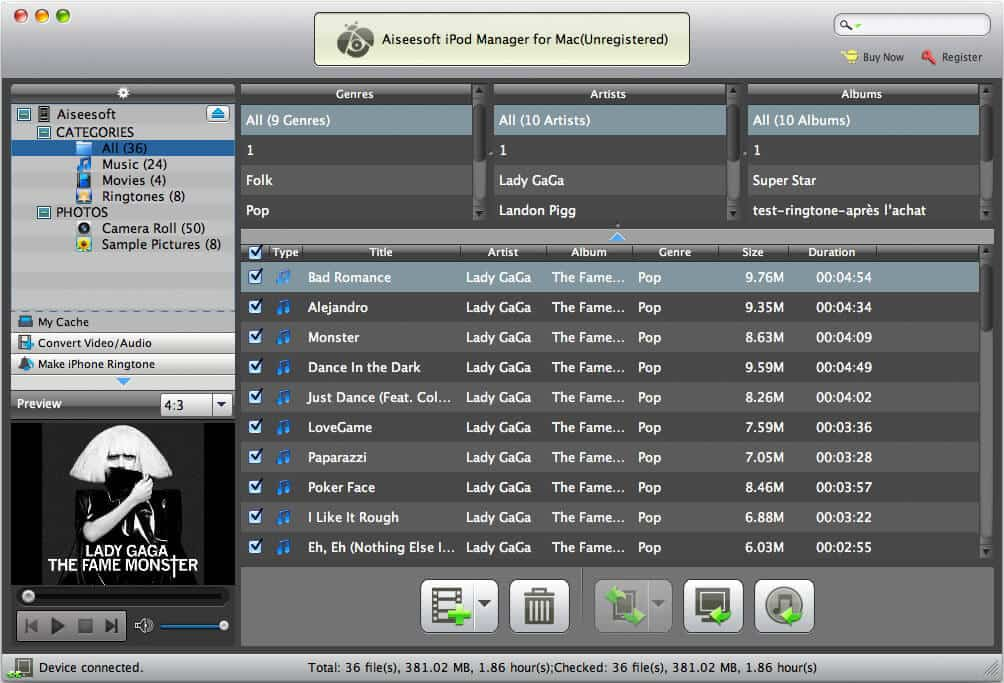 Click to view screenshot
Related Products
Downloadfeast is a software portal provides you thousands of freeware software download program listings of Windows, Linux, Mac & Mobile apps to download. 100% virus & spyware free
Top Downloads