Utilities :: File Management

Moo0 Anti-Recovery
Erase recoverable data from your disk drive
:: Product Details ::
Update :
2015-03-03
Publisher :
Moo0
Home Page :
http://www.moo0.com/
Version :
1.11
Size :
2796 KB
Price :
Freeware
Compatible :
WinXP,WinVista,WinVista x64,Win7 x32,Win7 x64
Total Download :
146
:: Product Description ::
Moo0 Anti-Recovery lets you easily erase all the recoverable data from the empty space of your disk drive, leaving the existing files untouched.
Have you ever sold/disposed your PC, HDD or USB sticks? Are you really sure nobody's recovered your personal data, such as ID, password, personal photos, card number and so on, from them, then? Now, you can be relieved from the fear by using this easy program.
You may also want to use this tool before leaving your desk for some days.
Tips:
- First, please make sure all the files you don't want to be recovered are deleted or inside recycle bin. This program will not erase any "existing" files.
- If you want to use this on the system drive, we strongly recommend you to close all other applications first. It is because this tool will fill up the entire free space on the disk once with pseudo-random data during its process.
- Also, if you want to delete individual "existing" files in unrecoverable way, our "Moo0 FileShredder" will be of your interest.
Reviews:

Moo0 Anti-Recovery is a free disk-cleaning utility that wipes the free space on your disk drive, making the data on it unrecoverable.
(Download.com) (5-Star Rating - Thank You!)
:: Product Screenshot ::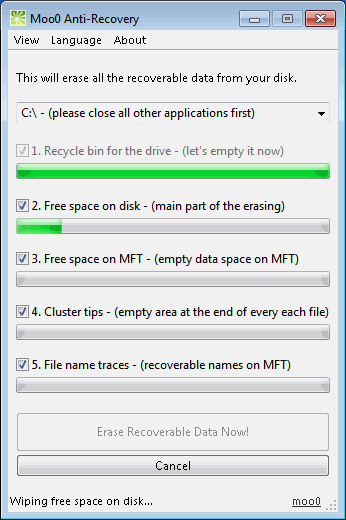 Click to view screenshot
Related Products
Downloadfeast is a software portal provides you thousands of freeware software download program listings of Windows, Linux, Mac & Mobile apps to download. 100% virus & spyware free
Top Downloads