Utilities :: File Management

Moo0 File Shredder
Erase Private Files Perfectly
:: Product Details ::
Update :
2015-03-03
Publisher :
Moo0
Home Page :
http://www.moo0.com/
Version :
1.21
Size :
2808 KB
Price :
Freeware
Compatible :
WinXP,WinVista,WinVista x64,Win7 x32,Win7 x64
Total Download :
115
:: Product Description ::
Moo0 File Shredder lets you easily erase your private / secret files perfectly off your HDD.
This kind of tool is "must have", since all of your private data is usually recoverable by anybody even after you delete it. This program is made very easy to use, and you just need to drag and drop your private files / folders onto the window. It currently supports 4 levels of erasing methods depending on how important the file deletion is to you.
Tips:
- If you want to erase all the recoverable data from your entire disk space, our "Moo0 Anti-Recovery" will be of your interest.
Reviews:

Moo0 File Shredder - A simple-to-use application that bundles four cleaning modes for helping you delete confidential data from your computer permanently
(Softpedia) (5-Star Rating - Thank You!)

Moo0 File Shredder - Most PC users have probably heard that the Recycle Bin doesn't really delete files, at least not right away, and even long-deleted files can be recovered from your hard disk...
(Download.com) (4.5-Star Rating - Thank You!)
:: Product Screenshot ::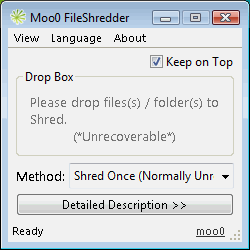 Click to view screenshot
Related Products



Downloadfeast is a software portal provides you thousands of freeware software download program listings of Windows, Linux, Mac & Mobile apps to download. 100% virus & spyware free
Top Downloads