Utilities :: File Management

Moo0 RightClicker
Enhance Your Context Menu
:: Product Details ::
Update :
2015-03-03
Publisher :
Moo0
Home Page :
http://www.moo0.com/
Version :
1.53
Size :
7180 KB
Price :
Freeware
Compatible :
WinXP,WinVista,WinVista x64,Win7 x32,Win7 x64
Total Download :
211
:: Product Description ::

Moo0 RightClicker is a set of enhancements on the context menu (right click menu) of Windows Explorer. It adds many useful functionalities like duplicating current explorer window, open/move to/copy to bookmarked folders, hiding default context menus, and so forth.
Please install this program and experience the possibilities that it can bring to you. Although you may need some time to get accustomed to it first, you will probably find your life far easier with these extra enhancements.
The functionalities of this program are well selected and simplified for easy start. If you want all the functionalities, please try out Moo0 RightClicker Pro.
Tips:
- You can always Un-Hide default right click menus like "Send To" from "Customize.." > "UnHide" > ..
- You can show all the menus available by Right-Clicking with Shift-Key.
- It takes time to get used to a new set of menus. Please try it a while.

:: Product Screenshot ::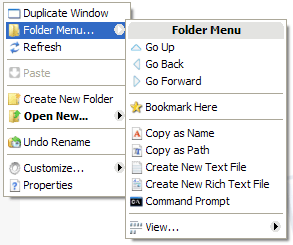 Click to view screenshot
Related Products
Downloadfeast is a software portal provides you thousands of freeware software download program listings of Windows, Linux, Mac & Mobile apps to download. 100% virus & spyware free
Top Downloads