Utilities :: System Tools

Moo0 XP Desktop Heap
Let XP hold more Windows
:: Product Details ::
Update :
2015-03-03
Publisher :
Moo0
Home Page :
http://www.moo0.com/
Version :
1.09
Size :
2780 KB
Price :
Freeware
Compatible :
WinXP
Total Download :
157
:: Product Description ::

Moo0 XP Desktop Heap lets you increase the limitation of how many windows/applications Windows XP can hold simultaneously.
Windows XP has a low limitation on how many windows/applications it can keep open and running. It is due to the insufficient size of the so-called Desktop Heap. Haven't you ever suffered from the following symptoms using Windows XP?
Symptoms:
- After running the system long without rebooting, some unknown errors start to come up.
- Errors start to occur when opening many windows/applications.
- Some applications fail to start with a sound "Ding!".
- Some applications fail to start silently.
- Components rich applications such as PhotoShop sometimes malfunction.
- DreamWeaver stops responding after opening many tabs.
- Some images get drawn blacked out while surfing Internet.
- Popup-windows don't come up any more.
- Some context (right-click) menus get cut short or don't come up any more.
- The system is still running okay without being frozen, but the user interfaces stop reacting.

You can now finally say Good-Bye to all these symptoms for once and all using this simple tool.

Note:
This program is recommended for the systems with 1 GB or more amount of memory.

:: Product Screenshot ::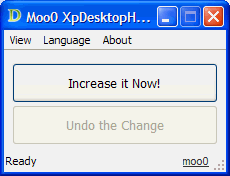 Click to view screenshot
Related Products

Downloadfeast is a software portal provides you thousands of freeware software download program listings of Windows, Linux, Mac & Mobile apps to download. 100% virus & spyware free
Top Downloads