Home & Education :: Math / Science

Water Supply
Water Supply - House Well Builder Simulation
:: Product Details ::
Update :
2021-05-06
Publisher :
Dynamic Applications
Home Page :
https://dynamic-applications.org
Version :
6.24
Size :
4776 KB
Price :
Freeware
Compatible :
Win2000,WinXP,Win7 x32,Win7 x64,Windows 8,Windows 10,WinServer,WinOther,WinVista
Total Download :
7
:: Product Description ::
The Water Supply Simulation is a calculator by Dynamic Applications that allows you to calculate cost, effort, time and volume of your own, self-built House Well. Includes a simple House Water Reservoir Battery Simulation.

But does it really make sense if we consider gravitation to be one of the weakest powers that there is, considering that you need a whole planet to connect a 100 kg person to its surface? - with Newton's gravitation formula for height energy, E = m * g * h and knowing that one Newton Meter is only a Watt second, it's getting close. So we calculate a completely sustainable house with a Water Supply Battery, as an example of what's possible with Dynamic Applications.

All calculations are fully transparent via the integrated ToolTip system, documenting all formula and values in live calculation. Dynamic Applications are gathering no data at all, perfectly protecting all your plans. And finally, Dynamic Applications are participative. Two voting competitions on Twitter, world's fastest network, are defining our path to follow. The work on Dynamic Applications is prioritized from the top public votes on the best dynamic idea and platform features of all times.

Finally, Water Supply includes the Bakery Tutorial, an introductory simulation that allows you to bake and sell your own bread. For the top 12 Input and Target Values, the integrated Formula System editors allow you to rename, translate, and redefine any formula directly within the application. Apart from that, Dynamic Applications are fully functional in the free version, so you can play around and calculate to build your own Water Supply, as well as step into creating a small business of any kind.

Food and Drink - Dynamic Applications has world's basic answers.
:: Product Screenshot ::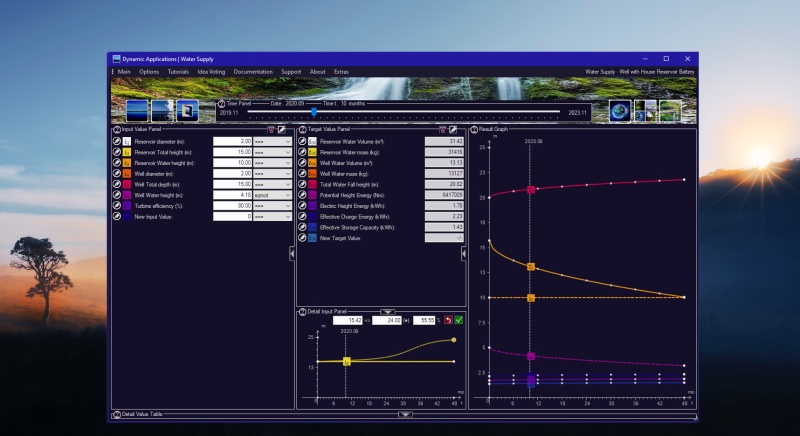 Click to view screenshot
Downloadfeast is a software portal provides you thousands of freeware software download program listings of Windows, Linux, Mac & Mobile apps to download. 100% virus & spyware free
Top Downloads