Utilities :: Text Editors & Tools
Notepad++
Notepad++ is a free source code editor.
:: Product Details ::
Update :
2009-02-20
Publisher :
https://notepad-plus-plus.org
Home Page :
https://notepad-plus-plus.org
Version :
7.8.4
Size :
3600 KB
Price :
Freeware
Compatible :
All Windows OS version
Total Download :
84
:: Product Description ::
What is Notepad++?

Notepad++ is a free (as in "free speech" and also as in "free beer") source code editor and Notepad replacement that supports several languages. Running in the MS Windows environment, its use is governed by GPL License.

Based on the powerful editing component Scintilla, Notepad++ is written in C++ and uses pure Win32 API and STL which ensures a higher execution speed and smaller program size. By optimizing as many routines as possible without losing user friendliness, Notepad++ is trying to reduce the world carbon dioxide emissions. When using less CPU power, the PC can throttle down and reduce power consumption, resulting in a greener environment.

Notepad++ is a free, open source application for writing text. A powerful editor full of options, Notepad++ is ideal for programming as well as normal text.

Notepad++ works with tabs, so it's very easy to work with multiple files open at the same time. Comparing texts is therefore very easy, and every line is numbered. Font size in Notepad++ can be increased simply by holding CTRL and the mouse wheel used to zoom in. Pressing F12 makes the current tab float above everything else in Windows.
:: Product Screenshot ::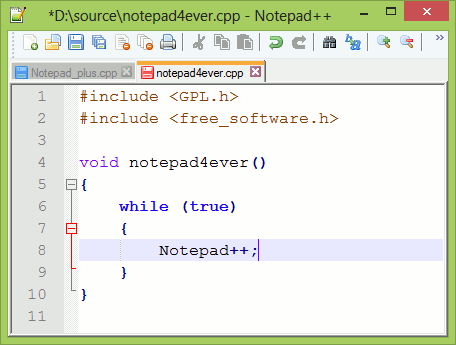 Click to view screenshot
Related Products
Downloadfeast is a software portal provides you thousands of freeware software download program listings of Windows, Linux, Mac & Mobile apps to download. 100% virus & spyware free
Top Downloads